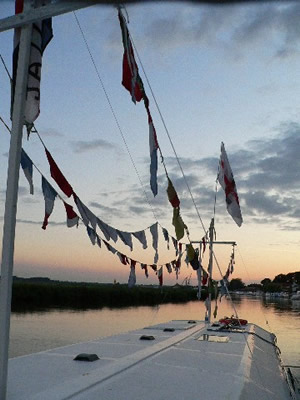 WELCOME , NEW AND OLD FRIENDS, TO OUR WEBSITE
A warm welcome to our site whether you are a musician or a valued listener. A Jazz band needs both and we've been blessed with the highest quality of players and audiences for many many years.
Rats and followers alike look forward to meeting in the last week of July every year for our annual tour of The Norfolk Broads. Many of our friends book their holiday to coincide.
Unfortunately, this year will be our final tour but last year was as well and so will be next year.
A Special Message from Uncle Barry:
To compensate for having to cancel Rats week in 2020 I planned a picnic. These plans were thwarted so I'm trying again.
12/30pm Sat. 4th June 2022 (Jubilee weekend) and you are cordially invited.
Bring a picnic although I'm hoping for BAR B Q and licenced bar.
Just like Water Rats gigs, there is no admission charge and a raffle will be held for the benefit of our local primary school.
I have some parking , but when it's gone, it's gone.
Penneycrofts, Bartlow Road, Ashdon, Saffron Walden CB10 2HR.
Subject to sufficient numbers, there is the possibility of coach transport to the picnic (and back!) courtesy of Tim Phillips and one of his classic coaches.
If you are interested, please email Tim directly at Tim.Phillips@TPaccounts.co.uk with your name, the number of passengers, a mobile number (if you have one) and your postcode. Please note that this creates no obligation on you to take up the offer (nor any obligation on Tim to provide it!). Please also indicate if you are able to get yourselves to a group pick-up point (bear in mind you would then have to drive yourselves back …). Obviously no such pick-up would be selected that is closer to the venue than your home.
Depending on the response, Tim will work out a) if it is viable in the first place and b) the logistics and pick-ups. There will be a charge but it will be based on cost rather than profit. Tim will ensure that you are happy with arrangements before you commit.
NEWS FOR 2022
The 56th Water Rats Tour will take place from  Saturday 23rd July, departing in the "Westminster Bridge" from Bridge Craft Acle. Itinerary will be available soon!
A reminder to all travelling on the broads to check out the Broads Authority Safety Essentials on Youtube.
Mark at the boatyard is a nice chap. He has boats at good prices T.01493750378, Mark or Stephanie.
There'll be a real Rat rave up lunchtimes with all the sitters in followed by a designated band for the evenings. The evening session band need to be less crowded so those on the Rat Boat suffering damp bunks and indifferent food along with too much whisky can at least get a decent blow. Then I am sure Bill will entertain you until the wee hours!
PUBLICANS
If you've picked the short straw, we'll be infesting your establishment in July.
Please download a poster right here to warn your regulars of the impending intrusion.
Just to remind you, our fee is a full watering can of your finest ale regularly replenished.